What is a weighing system?
A weighing system is an advanced solution for accurately measuring the weight of waste during collection. There are static scales and dynamic scales. The former requires an employee-initiated temporary halt of the elevator to determine the weight. A dynamic scale, on the other hand, allows the weight of waste to be determined without stopping the elevator – a fully automated process. Depending on the specific needs, both solutions allow for accurate measurement of collected waste.
Waste collection companies are eager to use weighing systems to accurately account for the weight of waste collected from residents, to monitor the degree of waste segregation, and to compare the weight of waste collected by the vehicle with the weight of waste determined at the landfill.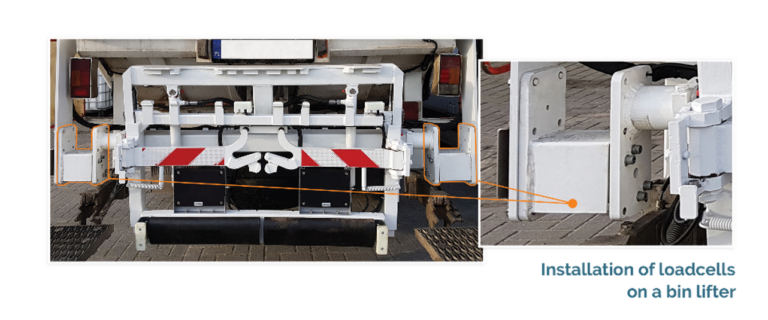 How does a dynamic scale work?
The basic component of this solution is the Load Cell with Transducer (strain gauge with transducer). This is a special load cell that is placed in the waste receiving elevator so that the point of contact is under the container. It measures the pressure exerted on it by the load during the emptying process.
When the container is lifted, the Load Cell records the pressure value and then converts it into an electrical signal. This signal is transmitted to the Weighing Computer, which converts the pressure value into waste weight. The dynamic scale can work with load containers of different sizes, making it flexible and adaptable to different types of waste.
The weighing results are stored in a database and can be used for various purposes, such as billing customers, monitoring waste segregation or analyzing the amount of waste collected on each route.
Benefits of using dynamic scales:
– accurate billing: eliminating errors and obtaining reliable data
– time optimization: speeding up the process of waste collection and weighing
– increased efficiency: effective management of the waste collection process and and optimal route planning.