The year 2022 was intense for us in many ways. We launched operations in new markets and gained more cooperation partners. We also strengthened business relations with existing partners, expanding the scope of joint activities. Due to the geopolitical situation, it was not possible to achieve all the goals we had set. Nevertheless, we closed the year with satisfaction and motivation for further work.
"In accordance with the set goals, we are developing in a balanced and controlled manner. This applies to both the business activities undertaken and the growth in employment.  We are currently basing our business model on the development of partnerships with other entities. Such cooperation allows us to meet the needs of our end users much more effectively." – Grzegorz Nowak, CEO of ELTE Smart, concludes.
Last year, after a break due to the COVID-19 pandemic, we were again able to participate in industry trade shows and conferences. Attendance at these events confirmed how important face-to-face contact is for our business.
Our proprietary process and asset management system, ICHI, underwent a metamorphosis. In addition to the name (formerly SEPAN), we streamlined the system's operation, changed the look and added new functionality. We also introduced route optimization (SAITEKI) and 360 video recording (ARUMABU) modules.
The uncertain situation resulting from the ongoing war in Ukraine and rising inflation is reflected in almost every aspect of our lives. Another challenging year awaits us. However, we must not forget the overarching issue of a changing climate. Here everyone's collective action is needed, regardless of the political and economic situation.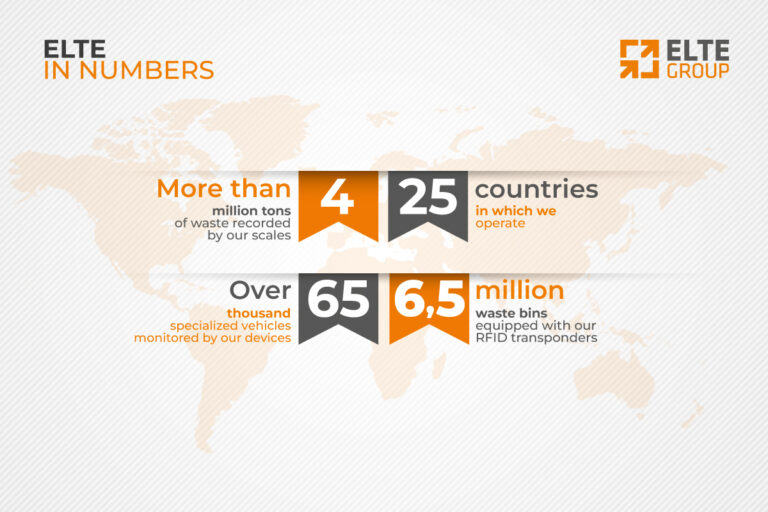 In connection with the European Union's Green Deal regulations, including municipal waste management, our partners will face many challenges. We are listening to these problems and designing appropriate solutions. Strengthening partnerships is embedded in our strategic activities.
Digitization will also continue in the coming years. Many of the companies we work with are just beginning their digital transformation. ELTE has the right tools and expertise to support these processes. In addition to the obvious aspects of optimization and savings, digitization allows companies to grow in a sustainable way. Concern for a better tomorrow should be at the heart of every organization.
We will soon move to a new office. Properly arranged, the space will allow us to increase the comfort of work and become an even more employee-friendly place. We are looking forward to it!
Dear Partners, thank you for the trust you have placed in us in 2022. We believe that further cooperation will allow us to grow together and achieve our goals.